You've Got Me Feelin' Emotions: Using the power of feelings to unlock your brand.
In this instance, we had validated positioning concepts with consumers, so my gut reaction was to answer with details about the learnings. But the more I thought about this question, it became abundantly clear that the real answer is much simpler: you
don't wait
for permission.
If you have a product or service with a name, and someone is buying what you're offering, then spoiler alert — you are a brand. Whether we like it or not,
consumers assign emotions to all brands.
If we don't make a proactive choice to craft a positioning rooted in an emotional benefit, then we're letting people decide what that emotion is on our behalf. Emotions aren't just soft and fuzzy, there is a wide range that can be associated with your brand — from confident, strong and energized to bored, apathetic, or worse, let down.
Even the most seemingly functional and transactional categories have witnessed an influx of brands shaking things up, re-writing the rules, creating connections and proving that
emotion matters, it

always

matters.
(Sorry B2B's, you don't get a free pass). Both legacy and emerging brands have managed to disrupt formerly functional spaces like eye care, insurance, financial services and even safety equipment.
Proving that no category is immune to the power of emotive brand positioning,
in fact, the bar of consumer expectation has been raised. And I'm not just talking about one emotive story a brand tells on their website 'About' page, I'm talking about deep connections that tap into people's identity and values — connecting your brand to the higher order emotional benefits that fulfill a need in their life.
Take Bausch & Lomb's
Lumify
, for example. In their first two years since launch, they've been able to
bring more than a million first-time users into the (once flat) eye redness reliever category*.
While traditional category leaders like Visine continue to amplify functional benefits and add to the laundry list of features on their packs, Bausch & Lomb took a drastically different approach when building Lumify. The success of the product itself is thanks to a powerful active ingredient: brimonidine tartrate (yep, quite the tongue twister). They could have easily marched down a technical path, launching this new formula as 'Max Strength Redness Reliever' within their existing Soothe-XP or Opcon-A portfolios with a clinically proven positioning.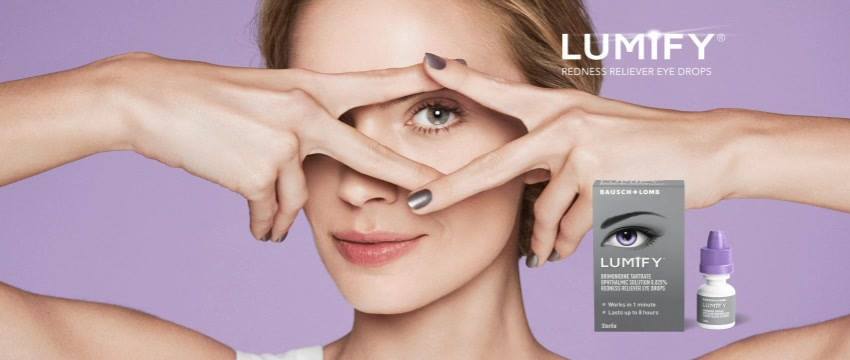 Instead, they chose to build a premium brand that looks like something you'd find browsing Sephora — promising to help reveal your eyes' natural radiance.
While 'redness relief' may be the pain point for consumers, Lumify chose to focus on the end benefit — brighter and whiter eyes that wow. Even the product name and glimmering wordmark help elicit the desired feeling of bright, shimmering eyes; tapping into
deep human desire to exude confidence
by looking and feeling your best.
Similarly, emotional connections are being forged in other formerly functional spaces — meet
SHHHOWERCAP
. Founder and inventor Jacquelyn De Jesu created this brand from the ground up based on 1. Her personal desire for a
modern, fashion-forward, high quality alternative to the cheap, pink plastic,
Little Miss Muffet shower caps (you know, the ones that grandma used in the sixties), and 2. Insight from many women, like her, on a quest for healthy, great-looking hair,
who skip washes to minimize damage and prolong blowouts.


Her answer is a stylish waterproof turban that comes in rotating collections of seasonal prints and colors. Each collection is showcased on diverse women in editorial ways that make you feel like you're buying a luxury piece. But what really drives home the value proposition — at $43 each these cost 4x the average drugstore shower cap — is the i
ntuitive way they use humor and drool-worthy visual language that speaks directly to the 90% of women who don't wash their hair every day.
They tap into their target audience's experience with old shower caps (or relatable workarounds like dancing in a top knot), then tactfully show how this reinvention is better in every way. From leak prevention to eliminating the "angry rain on a tin roof" sound (hence the SHHH).
SHHHOWERCAP

proves that women are willing to pay a premium to protect their hair and feel chic while in the buff.
And last, but not least, if branded emergency kits can establish meaningful emotional connections with people,
then any product or service can.
When it comes to survival, the most natural emotional trigger is fear, so traditional emergency kits have offered a collection of 'one-size-fits-all' supplies bundled in a no-frills case. But Judy takes a different approach.
Right off the bat, the name sets the tone for a much more approachable experience.
More than just supplies, they act as a concierge for disaster preparedness.
Information about disaster planning — before, during and after is tailored by zip code and backed by 24/7 emergency alerts and on-call texting to help you prepare for or respond to an emergency. Beyond a triage for fear,
Judy offers the emotional benefits of feeling in control, informed and ready for anything.
Its bold use of orange, striking sans-serif type and tiered product offerings in a range of stylish carrying cases for their ready-kits has helped Judy make its way into
unexpected channels, like the shelves of Nordstrom, Goop and Oprah's Favorite Things List.
In the B2B space, Spicefire transformed Oxford Insurance into Foxen, a provider that protects property managers and owners from unnecessary risk. The brand's new name, modern identity and striking color palette all work together to communicate the positioning rooted in clarifying the complex. Ultimately, the new brand gives their end user (property managers) a
feeling of control over the confusing and unwieldy world of renters insurance.
Take a spin through the full
Foxen case study
to learn more.

Dear brand-builders, managers and marketers, if you need permission — here it is! Be brave and don't hold back. Create deep emotional connections with your target audience that fulfills real needs and offers them higher order benefits. Your business will thank you later.


*Consumer Data Science: IRI, Total US All Outlet Panel Data Ending 09–06–20.
Let's create something
big together.
We love collaborating through challenges, big and small.

If you're looking for a true partnership, we'd love to hear from you.